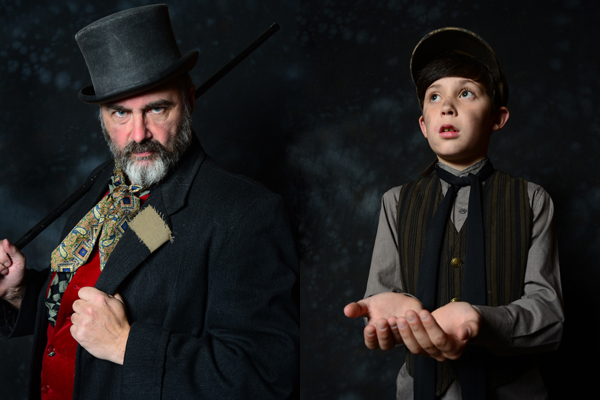 Costumes for Oliver
We hold an excellent selection of Dickensian clothing suitable for Oliver Twist and other similar productions and period dramas. Clothing for rich and poor in all sizes.
Oliver remains a popular choice of musical for both stage and drama schools due to the number of young people required for the cast.
The well-known story by Charles Dickens, tells of the young Oliver Twist growing up as an orphan in the poorhouse. He is sold to an undertaker, but escapes to live rough on the streets of London pick pocketing and thieving. Oliver gets caught stealing from the wealthy Mr Brownlow and is taken in by him and his family.
We have a wonderful choice of costumes suitable for this show from Oliver's collarless shirt, breeches and baker boy hat, the Artful Dodger's worn tailcoat and top hat, Fagin's coat and fingerless gloves, Nancy's red dress and work clothing for Bill Sykes.
Costume gallery
Artful Dodger
Scruffy Top Hat and Tails + waistcoat + neckerchief
Oliver Flyer download
Dickens costumes
Most of these costumes are suitable for other Dicken's productions which are all set in the same period and have a requirement for rich costumes and for the Victorian poor;
Great Expectations
Scrooge
A Christmas Carol