This week………
Whilst theatres remain dark, our costume store in Little Horwood is closed to the public. Now is a perfect time to plan your next show in detail, so do contact us for information on our superb costumes and discuss your plans.  we would love to hear from you.
We are already taking orders for October onwards and expect things to get very busy once public spaces are able to open again.
Never has entertainment been so necessary and we have produced a series of 'isolation musicals' for our own amusement and to showcase some costumes.
You can see them here;   https://www.youtube.com/user/BridgeLisa
Zoom Party Box
Why not liven up your next zoom or face time meeting with some dress-up?  Take a look at our dress-up sets and order one of our zoom party boxes for a birthday or on-line get together.
Newsletter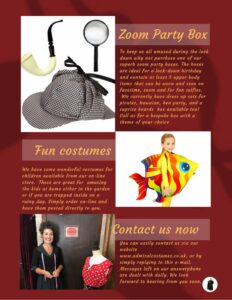 What is happening at Admiral Costumes?
Admiral Costumes has 75 rails of quality theatrical costumes and fancy dress costumes available for you to hire at Unit 2c, The Hollows, Winslow Road, Little Horwood, Mk17 0PD.
Wonderful light and airy unit with roller shutter door for easy access with those rails.
Bespoke scaffolding unit is now displaying hundreds of costumes for all your favourite shows; The Sound of Music, Les Miserables, Oliver, Bugsy Malone and Guys and Dolls.
A new accessory room dedicated to the hundreds of hats, costume jewellery items, bags, gloves, period umbrellas and caps, makes finding the perfect accessories to complement each outfit easy.
Massive choice of period costumes including a superb collection of 1940s wear for those war-time re-enactment days this spring and summer.
We wanted to create a vastly improved customer experience and with waiting area, tea and coffee, internet access and heated changing facilities, we are so excited to get to work in our new environment.
Our new store opening hours are Tuesday's and Thursday's 10 – 4pm and Friday mornings 9-1pm. If you would like to make an appointment outside of these times, then do give us a call on 01908 372504 or 01296 714323.
Plays this month include Brief Encounter, My Fair Lady, The Tempest and Paul's Paradise
New in store – Vintage style hats and petticoats for purchase
Also this month:  Our new range of vintage style hats are now on display and available for purchase from our new store in Little Horwood. The gorgeous quality hats range form 8 panel cloth caps, ladies 20s style cloche hats and black wool top hats – marvellous for those victorian events or weddings. 50s style petticoats for Lindy hop and Rockabilly in red, black and white are also available in store – or buy on line
Order early for Goodwood and Twinwwod
40s events are extremely popular during the summer months and we supply hundreds of fabulous 40s style costumes for events like Goodwood, Twinwood and 40s days at steam railways and Milton Keynes Museum.
Our 40s costumes have appeared on national TV and various films. Choose from RAF, Army or Naval uniforms for men and women or go civilian as a tea lady or a glamorous 40s pin-up.
Call us now and book your outfit well in time for your event to avoid disappointment.
Newsletter